There are a lot of things that make a country's culture language and people unique. Some of these things are what we buy after we visit that country and stay there for a while. We gain a lot of memories from these travels and try to send some findings home.

Many countries have so many beautiful things people can buy and give to those we love in our homeland. But, what do you think about your loved one dressed in garments that royals put on in Ghana? Maybe locally made beads, woven baskets, or even the famous African Black soap? Here are some of Ghana's goods to take home.
1. Kente Cloths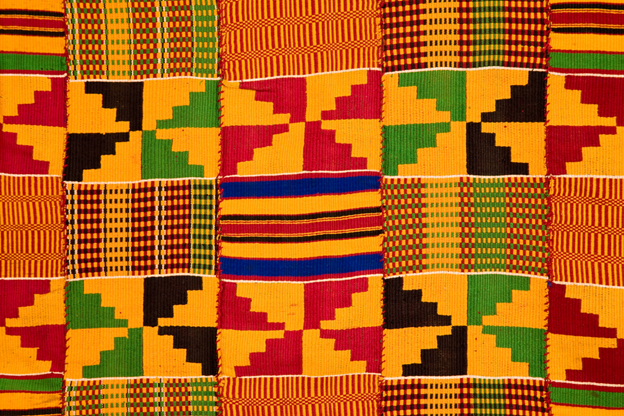 Have you ever dressed as a royal from another country before? If no, then this is your chance. There is a particular region in Ghana called the Ashanti region with people we call Akans.

During festivals, the Chief and the other members of the royal family put on some beautiful clothes. Even though the clothes may differ, there is always someone wearing Kente cloth.

Silk and cotton combine to make the Kente. The fabric is made into a strip loom with many different colors patterned to form the Kente cloth. Every color found in the Kente cloth means something.

Some of the popular colors and their meanings are; Black for maturation and spiritual energy. Blue for peacefulness, harmony, and love. Green for vegetation and growth. Gold for royalty, wealth, and glory. Yellow for anything precious, also royalty, wealth, fertility, and beauty. And finally, red for political and spiritual moods.

In Ghana, you can get Kente from almost anywhere. In Accra, you can get one when you go to the Makola market, and there are so many other places to get it. In Kumasi, you can get one at the Kejetia market and many other locations too.
2. Locally made Beads
Ghana is known to be one of the biggest manufacturers of beads like the one on the beautiful girl above. One factor that ascertains this fact is that most young girls have nothing to do when school closes for vacations, and so they learn how to make so many things. Some of these things are ice cream, locally made toffees, locally made drinks, and lastly: beads.

In the making of the beads, they do not use just one thing. It varies from bead to bead. Some people make glass beads, powdered beads known as Krobo beads, and beads made from seashells. What are these beads used to do? That depends on the one who made it. Some use their beads to make bracelets, some for necklaces, waist beads, and anklets.

Clay is often used to make some of the beads. The clay beads also function as the rest do, but friendship bracelets are the most common items made from the clay beads. Some artists use the beads differently. Some make the beads into their work of art to use as decoration at home. You can hang these decorations on walls, put them on your sitting room tables, and anywhere else you want.

During some festivals, most of the dancers and members of the royal family are seen in their beautiful Kente or Adinkra clothes with these locally made beads as bracelets and as necklaces.

Where can I get some of the beads in Ghana? You do not have to worry about that at all. The beads like the Kente are everywhere. When in Accra, you will get some in the Makola market and many other places too. In Kumasi, you can get these kinds of beads in the Kejetia market.
3. Bolgatanga Baskets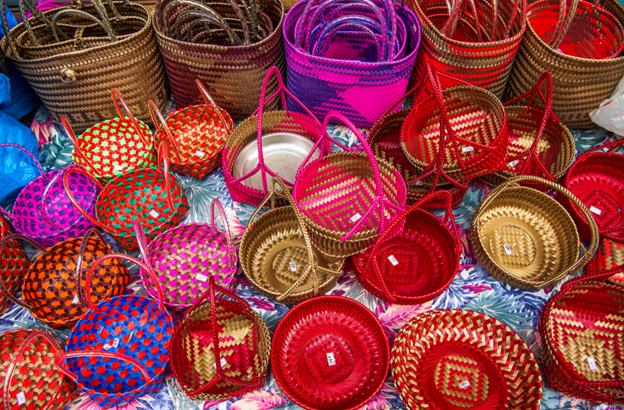 Bolgatanga is a town in Ghana that is known for so many things. The most famous one they are known for is the Bolgatanga basket. The people who make it are in the Northern Region of Ghana, and they use elephant grass.

These beautiful baskets are made by Frafra men in Bolgatanga hence the name Bolgatanga basket. These men are masters of weaving because these baskets are difficult to make.

They come in so many different colors and sizes. Why do you need these baskets? That depends on whoever buys it. The one thing they cannot do is hold water. Besides that, these baskets are perfect for almost anything. They are used for keeping laundry, going grocery shopping, and even keeping baby things too.
4. African Black Soap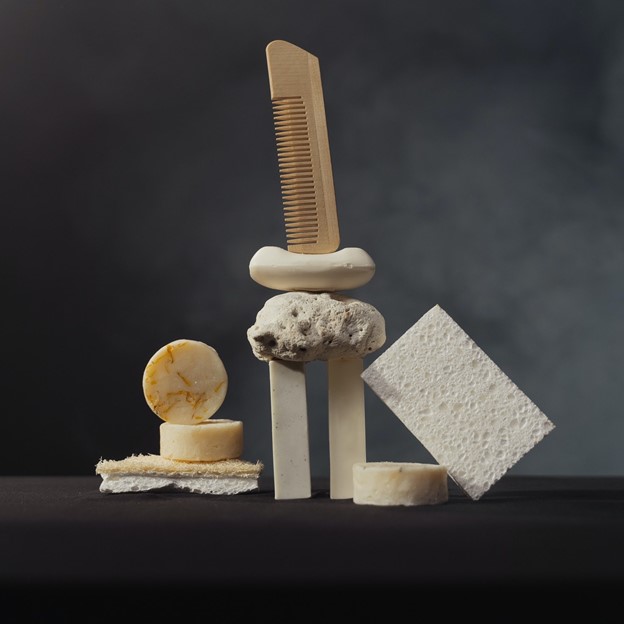 It is one thing you will find in any market. Though named African black soap, it is not black but rather deep brown. The soap comprises ashes of burnt plantain leaves, honey, aloe vera, shea butter, palm kernel nut shavings, and many other organic compounds.

Black soap is famed for its organic and naturally made ingredients to treat so many skin diseases. Due to how dense its components are and how they all are very effective natural medicines, they cleanse and moisturize the skin, remove blemishes, reduce scars, clean stretch marks, and brighten and glow the skin tone.

The African black soap is everywhere in Ghana. Some older people, especially older women, say the instructions and ingredients have been handed on for generations. Any market you go to or even most cosmetic shops you see in Ghana, go and request for the African black soap and you will get one.
Conclusion:
Ghana has so many beautiful things it shares with other parts of the world to end it all. It ranges from fashion items, foods, skincare items through to household items too. The above mentioned are not very known among travelers who come to Ghana, but once the travelers get to know about them, they may even learn how to make them and make their own to sell when they get to their homeland. Viavii once again has provided information that is not well known. Keep in touch to get to know more.