Trying to enlist all the things people can do for fun in Seychelles is next to impossible. Here is a little information about the beautiful island nation called Seychelles.
Seychelles is an archipelago in the Indian Ocean comprising 115 islands off the Eastern side of Africa. This country has so many things worth seeing. Some of these are endangered plant and animal species, a rich mixture of different cultures, and so much luxury that you might not want to leave once you get there.
Due to the feeling the island nation gives off, it has become one of the best destinations for newly wedded couples for their honeymoon. Here are five reasons why the extraordinary archipelago named Seychelles should be your next travel destination in 2021.
1. La Digue Island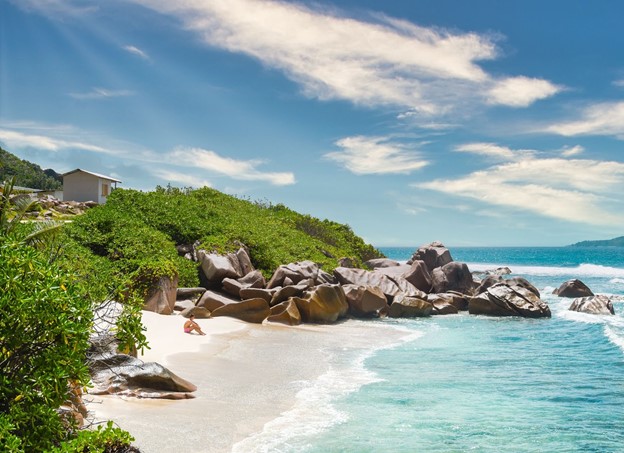 La Digue, the fourth largest of the 115 Islands of Seychelles, is only an hour's boat ride from the capital city of Seychelles, Victoria. It is the best place for people who enjoy being in nature and admire traditional island life. People here use bicycles and ox carts instead of cars.
So many things make this island unique, so it is a favorite attraction on the list of attractions for tourists. Some of these attractions include the Anse Source d'Argent, one of the fabulous beaches on La Digue Island. The beach has beautiful pink granite rocks. "The most photographed beach in the world" is what most people call it. They call it that way because the beach is like a magnet to photographers.
Also, people go to La Digue Island to see the L'Union Estate. Why do they go there? You may have requested the vanilla flavor while you bought ice cream some time ago, but have you ever seen a vanilla tree? If not, then get ready to see one if you intend to visit Seychelles. Vanilla trees were planted in Seychelles during the British colonial era and are still a plantation that goes on here. Do you want to see a vanilla tree? Spoiler alert, its fruits are as large as peas.
2. Aldabra Atoll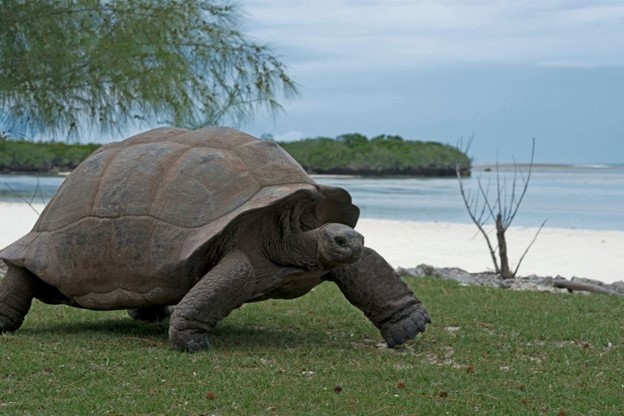 The Aldabra Atoll is away from the shore to the southeast of Mahe Island. Aldabra Atoll is a UNESCO World Heritage Site. The atoll is the largest raised coral atoll on earth. For people who love beautiful views of ocean life, this atoll is one almost everyone knows.
There are so many things to see at the atoll. Some include permanent shallow marine waters, mangrove swamps, coastal saline lagoon areas, marine subtidal aquatic seagrass beds, and three other wetland classes.
Due to the many habitat-favoring environments, different species come to dwell here throughout the various cycles of their lives. Though many species live here, some endangered ones include the Aldabra giant tortoise, the green turtle, the Madagascar sacred ibis, and endemic insectivorous bats. The Aldabra atoll is your best place to see in Seychelles if you are a lover of nature and its endangered species.
3. Vallée De Mai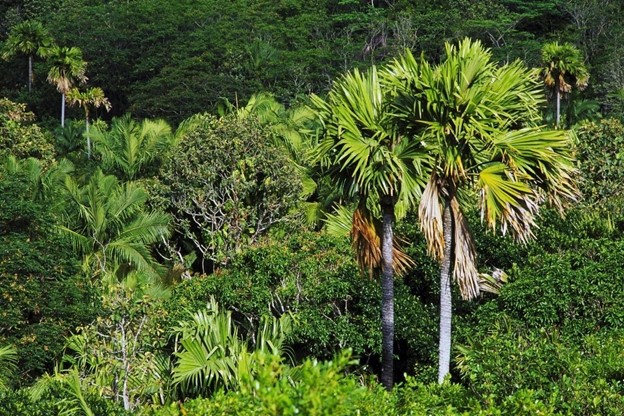 Vallee de Mai has many other names. The Heart of Praslin and Garden of Eden are names that Vallee de Mai has acquired. It is also a UNESCO World Heritage Site. Vallee de Mai is on the Praslin Island of Seychelles. It stretches approximately 19.5 hectares of palm trees which has been that way for a very long time. The forest houses endemic fauna species and is home to six different endemic palm plantations.
There are so many things to see here at the Vallee de Mai. The first people love to see when they get there is the famous Coco de Mer. Coco de Mer is the world's largest seed. That is what gives Valle de Mai the chance to be a world heritage site. The Coco de Mer grows only on Praslin and the Curieuse Islands. The oldest of the seeds trees is around 300 years old, has a straight trunk with large leaves. The female tree yields a fruit that has the shape of a heart and weighs about 25 kilograms.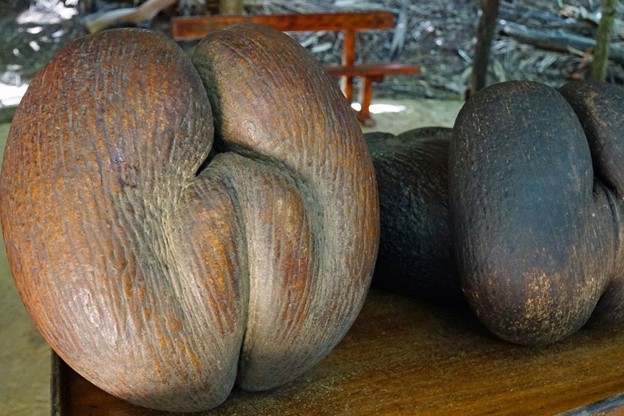 Also, besides the Coco de Mer, Vallee de Mai has other beautiful fauna, especially avians like the rare Black parrot, the blue pigeon, Bulbul, Seychelles Sunbird, Seychelles Kestrel, and Mascarene Swiftlet. Other creatures include the tiger chameleon, Seychelles bronze gecko, caecilians, tree frogs, and snakes. To sum it all up, you must see the Vallee de Mai if you are into botany, biology, and anything about nature.
4. Anse Lazio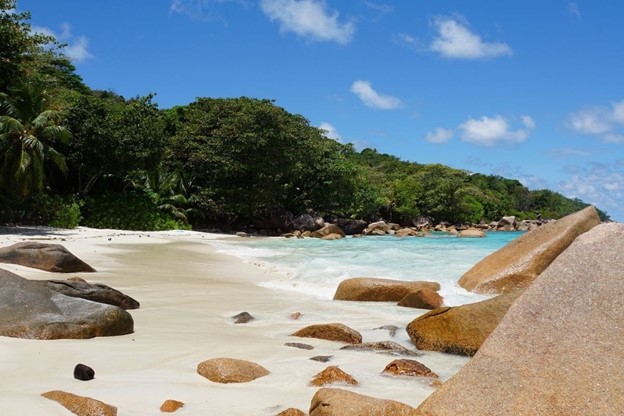 Anse Lazio is one of Seychelle's best tourist attractions. Why? Because it has a beach that people call one of the best beaches on earth. The beach area has a mixture of golden sand, a beautiful granite formation, and water as clear as crystals whenever you go there. Go to the Anse Lazio if your main interest is to swim in the water and to enjoy a beach in Seychelles. But if you do not want a place with too many other tourists, Anse Lazio is not a place to go.
There are so many reasons to go to the Anse Lazio. The main reason why some people go to Anse Lazio is to get sunbathed on a hot afternoon. Others go here to swim in the clear water, and some go to scuba dive. Newly wedded couples come here to have fun and relax. Anse Lazio is the best place in Seychelles to visit if you love the beach and games played at the beach.
5. Beau Vallon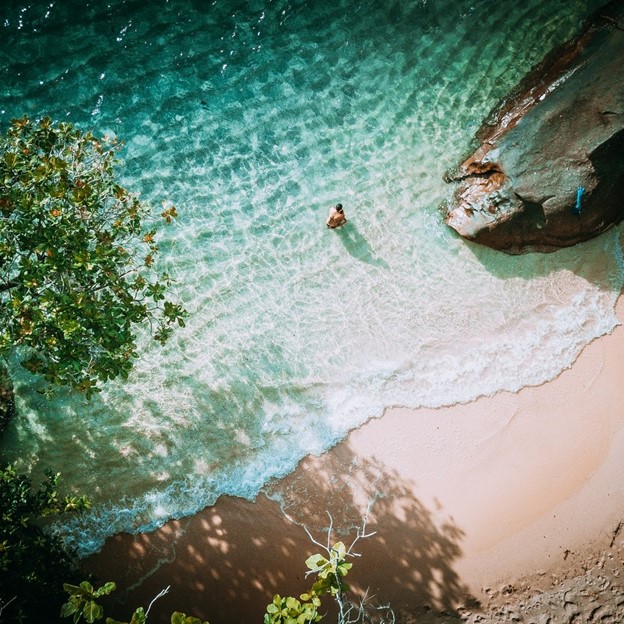 Beau Vallon is one of the bays on the North-West coast of Mahe in Seychelles. Beau Vallon's calm water and shoreline make it one of the best areas to go scuba diving, snorkeling, boating, and swimming. For all those looking for a perfect vacation in Seychelles, you should go to the Beau Vallon.
The first reason to put Beau Vallon on the list of places to visit if you are a photographer is its picturesque sunset views. From the Beau Vallon, people, especially couples and photographers, get a great view of the sunset. A very romantic view to enjoy with the one you love or to capture with your camera.
Also, people love to go diving and snorkeling as the water is calm and safe. There are no strong currents and no poisonous fish. You will see lots of fish species you have never seen before. Beau Vallon is one of the best places to visit in Seychelles if you are looking for a romantic place to go to or if you want to take pictures with beautiful views of the sunset.
Seychelles is a country with a lot of beautiful packages that await you. From newly wedded couples to professional photographers. Do you want romantic, serene, and picturesque places in one country to have fun? Look no further because Viavii found the perfect place for you. La Digue Island's vanilla trees, Aldabra Atoll's giant tortoises, Vallee de Mai's Coco de Mer, the Anse Lazio's clear water, and the Beau Vallon's picturesque sunset views are all reasons why you should go to Seychelles.
For more information on travel and some of the mysterious places in the world to visit, follow us on our social media handles; Facebook, Instagram, and LinkedIn.