ViaVii has been working since 2016 to deliver tailored one-on-one experiences to its clients. We started with one aim to enable "the era of people-to-people travels". All our experiences come down to a single focus point to give our users the experience of traveling like a local. In order to spread our aim, we are giving users the freedom to tailor their experiences online through our Viavii platform. So, in short, you have complete control over your adventure.
In today's blog, we will discuss the functionalities of Viavii's online platform, its top features, and how you can book an experience using this online platform. Let's start our today's blog!
Viavii Sites Top features:
On our current site, you will see a lot of varying and interesting features. We will be covering all the features that you can use to book an experience built for you.
1. Navigation Bar: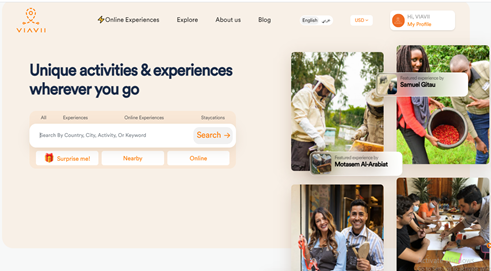 Starting from the top, our navigation bar consists of:

1.1 Online experiences: The online experience section will take you to a variety of different cultural experiences where you can experience the world at the comfort of your home. You can also use these experiences to learn new stuff like how to set up your house for any occasion, or how you can cook delicious Indian food, etc.

1.2 Explore: In this section, you will be able to check out all of Viavii's top experiences. You can adjust these experiences using filters such as experience type, category, style, language, budget, and duration.

1.3 About Us: You can check out all the information related to Viavii, our goals, and our policies. You will also see some of our proud accomplishments, which include creating more than 400 jobs.

1.4 Blog: The blog section contains our weekly updated blogs on various trending topics and categories like How to become an eco-friendly traveler and some of Jordan's best places for traveling.

1.5 Language toggle: You can switch the language of your interface by simply clicking English or Arabic language.

1.6 Currencies: You can also switch your preferred currency for experience booking. Some of the available currencies are EUR, SAR, QAR, JOD, and USD.
2. Search Bar: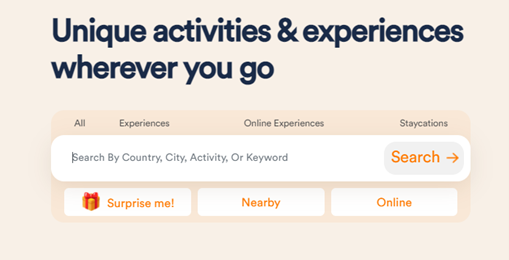 Viavii's search bar contains many unique features that you can use to get the best experience for yourself. Some of these features are:

2.1 Filters: On top of the search bar, you can see the filters labeled All, Experiences, Online experiences, and Staycations. By turning on the All option, you can get all the combined online and live experiences. Whereas the Experiences and Online Experiences filter will give suggestions of live or online experiences in your city. The 4th filter Staycations will suggest short family trips near your location for a quick, memorable experience.

2.2 Surprise Me: As you might have noticed, it's a bit different from the other icons. Well, this is our newly introduced feature where you can click on the gift box for a surprise experience gift. It will then recommend you with the most relevant experience based on your location and previous experience history.

2.3 Nearby: By using this button, you can get all the recommended experiences close to your area.

2.4 Online: By using this button, you can get all exclusive online experiences from all over the world and visit the best tutorials and places at the comfort of your home.
How To Book a ViaVii Experience?
I hope you weren't finding the booking process too difficult, and if you were, then don't worry I am going to guide you through the whole booking process step-by-step.
#1: The Front Page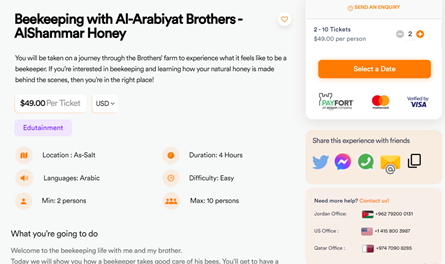 Whenever you visit an experience on our site, you will be directed to a front-page where you can find all the details about that experience. Make sure to read all about the experience, including its difficulty, requirements, and needs to get the best out of your experience.
#2: Ticket Selection
On the left side of your site, you will be able to see a ticket selection menu along with a per-person ticket price. This ticket selection option is your first step in booking a Viavii experience. So, select the no of tickets you need based on the number of people going on the experience. After that, click on the Select Date option and select the date and time for your experience.
#3: Checkout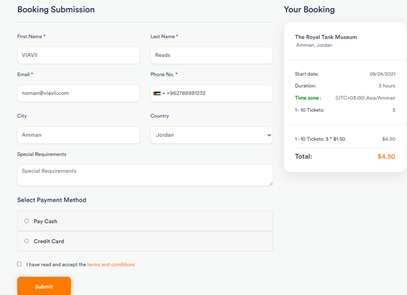 After you have successfully selected the number of tickets, experience date, and time, then you need to click on the Book button to proceed to the next step. Now, you will be directed to the Checkout page, and on this page, you will have to provide us with some of the necessary credentials to confirm the booking. You can also check the receipt for your booking on the left side.
If you already have an account on Viavii, then it will be automatically filled for you. After this step, you will need to confirm the method of payment and agree to our terms and requirements.
#4: Payment Method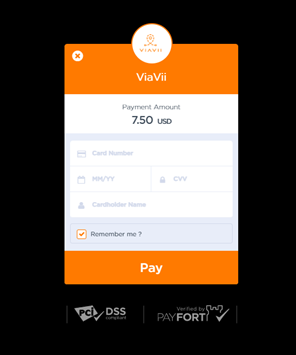 There are two payment methods available, in the first option, you can pay us physically in cash. In the 2nd option, you can use our feature to pay through your Credit Card. We have made sure the Credit Card payments are done with extra care and security. So, you don't have to worry about any issues.
Selecting the Credit Card option and clicking the Submit button after inserting all the required details would lead you to a page for the Credit Card booking. This transaction is secured by PayFort, to ensure the smooth experience of our customers.
Ending Remarks:
Today's blog was all about showing you the essential features of the Viavii website and how you can book an experience using the site. We are always upgrading our features to make sure our customers get the smoothest experience. You will see a glimpse of all these features that you can use to easily navigate to your desired experience. In the next part, you will be able to see how you can book an experience and enjoy traveling through Viavii.
That's all from my side for today. If you have any questions or want to give your feedback, we would love to hear it. We are always looking for innovative suggestions and ideas to make every experience better for our customers. You can also follow us on Instagram, Facebook, and Linkedin. Stay tuned as we post more informative blogs and fascinating experiences.